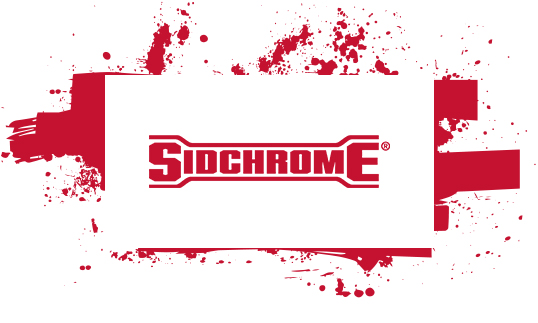 Considered an icon in the Australian and New Zealand tool industry, Sidchrome Tools is a brand of mechanic tools aimed at professional mechanics. It is a subsidiary of Stanley Black & Decker which is a part of the Hardware & Home Improvement Group. The famous jingle, 'You canna hand a man a grander spanner', made Sidchrome a household name all over Australia and New Zealand.
Established in 1942, Sidchrome has built a solid reputation among both professional and non-professional users, including mechanics, tradesmen, industrial users and home handymen. Its 'Built to last a lifetime' motto is evident with their lifetime guarantee against faulty workmanship and materials on most of the products in its extensive range.
In addition to supplying high quality, professional products that really do last a lifetime, the company is also renowned for its innovation in product development. It has long been considered an industry leader in presenting the mechanical sector with new technologies, including their patented AntiSlip Design (ASD).
This unique and patented design is exclusively available on products bearing the Sidchrome name. If features an unparalleled arc design that is capable of increasing surface contact by more than 400% to increase the torque applied to the fastener. This prevents slippage and results in fewer injuries and rounded fastenings.
With changing demands in the workplace that must be met with innovative solutions, the introduction of ground-breaking and revolutionary technologies like ASD have established Sidchrome's reputation as the manufacturer that leads the Australian and New Zealand mechanic tool industry.
As a leading supplier of Sidchrome tools in Australia, United Tools has an extensive selection of Sidchrome products in stock at our 60 specialist tool and hardware stores Australia wide. These include tool kits, air tools, socket sets, spanner sets, wrenches, pliers, hammers, screwdrivers, punches, chisels and many more.